To see the pictorial story of natural rubber production, click here.
In order to utilize fully the properties of (initially) natural rubber and (later) the synthetics, it was necessary to create an industry that could process the raw material and make useful products from it. While the latex industry was to be built around a material that could be handled quite easily, dry rubber was a very different proposition.
Raw natural rubber has a molecular weight several times greater than most of the synthetics and in this state it is difficult to process except as a solution (when, even then, a considerable amount often remained as swollen gel). It is therefore necessary to initially "break down" or masticate the material to a dough-like consistency and it was this material which was (eventually) used by Macintosh to give a solution of uniform viscosity with which to manufacture his triple layer waterproof fabrics.
If the dough is not intended to be made into a solution, the masticating process makes the addition of additives a relatively simple procedure. The "compound", as this material is known, had then to be shaped and vulcanized (or cured).
The mechanical processing of dry rubber began with Hancock's "pickling" machine (1820) which had an output of one pound of rubber per three hours and was hand operated ( one man powered) – hardly commercial for what was to follow - and the industrial revolution had yet to provide an engineering industry that was equipped to meet the demands of the rubber product manufacturers. Indeed, it is fair to say that the two industries developed together as demands for multi-horsepower machines built to close tolerances grew. Incidentally, Hancock's "pickle" was not originally conceived to masticate rubber but to fuse together all the little off-cuts his various processes were producing since he had observed that freshly cut rubber surfaces would adhere strongly to each other, a behaviour which rapidly changed as the edges aged.

His next machine was two-man powered but by 1821 he had installed a horse-mill to drive several processing machines. It was only after a fire in his London factory that, in 1834, he introduced a (steam) power driven machine into the industry at Macintosh's factory in Manchester. This consisted of a single roller with a fluted surface rotating in a concentric case. As it rotated, the rubber was torn and so masticated as in his "pickling" machine. This could claim to be the forerunner of today's internal mixer. Later models could handle up to 1800 pounds of rubber in one charge.
As I have already said, a great deal of rubber was used in solution and mastication was needed so that the rubber could dissolve without producing too much gel, but in the 1830's Chaffee concluded that the use of a solvent to prepare cast thin films of rubber was the main cause of the latter's rapid degradation so he developed his "calender" which consisted of 3 or more vertically stacked rolls with adjustable "nips" between the rollers through which the rubber dough could be passed to produce ever thinner sheets without recourse to solvent. By passing a sheet of fabric through the final nip together with the rubber, rubber-impregnated material could then simply be prepared.
| | |
| --- | --- |
| A year or two later he developed the two roll, two-speed mill which rapidly replaced Hancock's machines. By rotating the horizontally opposed rollers in opposite directions at slightly different speeds the rubber could be masticated and any additives then added into the nip so that they became finely distributed throughout the mix. A further type of mill soon became available which had two or more fluted rollers which could be used for washing the crude rubber as well as pre-masticating and creping it before passing it through the smooth-rolled mill or calender. These machines remain the basic equipment of virtually every rubber manufacturing facility today. | |
Although the design and manufacture of these close-tolerance mills and calenders seems a simple matter today, it was pushing the frontiers of technology in the mid 19th century. Stephen Moulton described in great detail the difficulties he, and his engineering companies, experienced in making the rolls. The foundry was reasonably successful in casting the hollow rolls but grinding the chilled hollow rolls proved an exacting (and expensive) task. In 1849 Moulton wrote that he was glad that two rolls have been successfully ground against each other "but how do you intend to grind the third" since grinding that against one of the others would destroy the relationship between the first two and all three could not be ground together with the power then available in the foundry. When Moulton complained about the cost, the foundryman said: "if you could see the number of rolls strewing our yard you would not complain". Even as late as 1874 Crossley Brothers of Manchester wrote to Moulton: "rolls never seem worth their money. They are very risky things to make".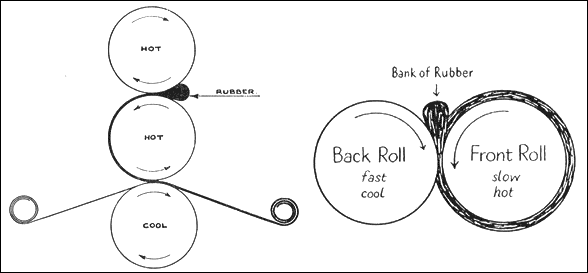 | | |
| --- | --- |
| | With the basic masticating and mixing processes now understood, the search was on for new methods of mixing which were quicker, less power-consuming, and which offered a cleaner working environment than that provided by the "open" mills. Space was always at a premium so more compactness was added to the wish list. These requirements led to various "internal mixers" being developed. Werner Pfleiderer, a company that had begun some 30 years before manufacturing machinery for mixing and kneading dough, made the earliest in 1913 while in 1916 Fernley Banbury launched the "Banbury" mixer which remains probably the most popular mixer for rubber compounding in the world today. The Banbury uses a pair of counter-rotating winged tangential rotors inside a closed chamber into which the rubber, and then the additives according to some pre-determined sequence, are dropped and sealed by a ram. After mixing, the compound is dropped through the floor of the mixer for molding and vulcanization. Francis Shaw adopted the same principle in the 1930's with the "Shaw Intermix". |
A variation on this theme is the "intermixer" which uses rotors which intermesh and shear/mix the rubber between the nogs and root diameters of the rotors. Since the nogs are slewed on the rotors the mixing material is continually swept from side to side within the chamber to give excellent overall mixing. At least one manufacturer today incorporates both intermixing and tangential technology within one mixer but rubber mixing still remains a batch process and no one has yet succeeded in devising a fully continuous mixing process.
The next stage in the manufacture of a vulcanized rubber product is to shape it and then apply heat to effect vulcanization. In 1855 Johnson patented the idea of using a press with shaped platens to bring about the shaping and in 1860 Pitman introduced steam-heated platens. This practice is still used today, although electrically heated presses have taken an ever-increasing share of the market in the latter third the 20th century.
As with compounding on a mill or in an internal mixer, molding with platens is a "batch" process and this is obviously of little use in the manufacture of articles such as hoses or automotive rubber seals and profiles. In this area the rubber industry learned from the plastics industry, specifically from Bewley who had invented the plastics extruder in 1847 to extrude gutta percha as an insulating and protective coating for the first submarine telegraph cables.
In 1881 Francis Shaw developed the screw extruder in which the compounded rubber was forced through an appropriately shaped die from a large cylindrical reservoir that was compressed by a screw piston. The product squeezed from the die (the extrudate) was then coiled on flat pans in spirals and cured in air ovens. More modern developments retain the extruder but use a variety of continuous curing procedures such as salt baths or long ovens through which the product is passed.